Studio Location

Artist's Statement
" "

Stone and mixed-media sculptor for many years. Stone, cast metals, glass, ceramic, wood, and found objects. website is www.dondougan.com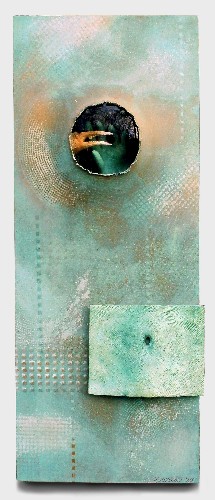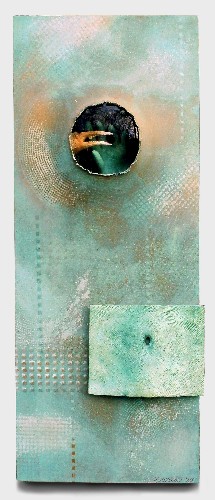 CLASS:

Sculpture
CATEGORY:

People
MEDIA:

mixed
SIZE:

30 inches high
YEAR:

2014
PRICE:

$2240

Description

Awoke from a dream one morning in which I had found myself making a series of wall sculptures using copper leafed surfaces on canvas stretched over wooden-frame structures and glass lenses. This one of the series has the crab claw and the hand reaching for the nexus of nature. The inner battle of the nature of self. The work is made with stretched primed canvas, plaster, ceramic, copper leaf, verdigris patina, found objects, glass, and paint.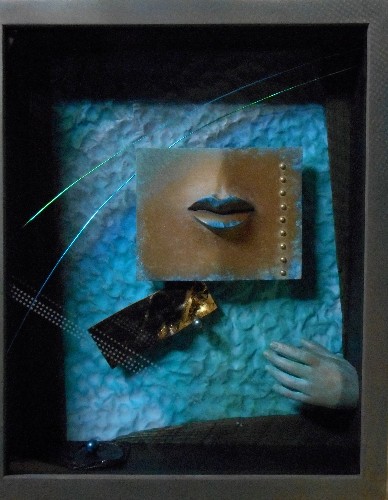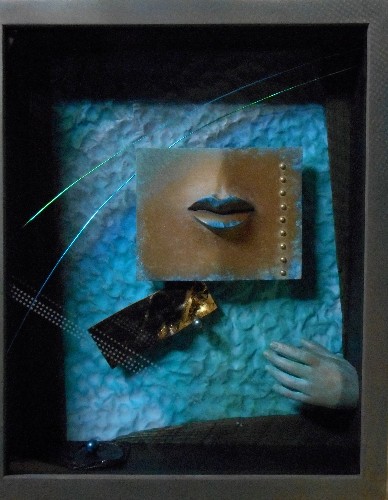 CLASS:

Sculpture
CATEGORY:

People
MEDIA:

mixed
SIZE:

17 inches high
YEAR:

2014
PRICE:

$2070

Description

Evokes a yearning for that which cannot be had, or that which was but is no more. The sea of my childhood dreams. Madde of copper, gypsum, bronze, brass, aluminum, wood, glass, 23K gold leaf, found objects, and added pigment.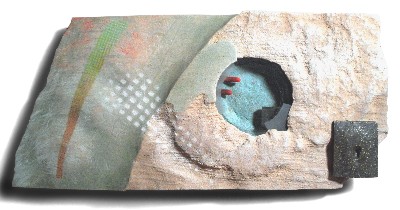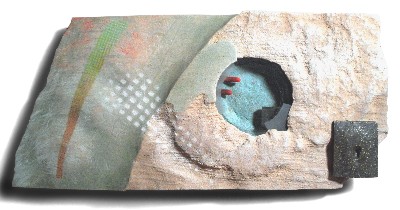 CLASS:

Sculpture
CATEGORY:

Abstract
MEDIA:

stone, glass, found objects, paint
SIZE:

20-3/4 inches wide
YEAR:

2014
PRICE:

$1640.

Description

The glass lens focuses on some sea-urchin spines against an aged verdigris patina and a antique piece of Verde de Prato serpentine. The rugged weathered surface of the limestone is cut away on the left, and the soft contours of the stone are toned a pale green but then scratched and patterned with etchings of red and orange. A lonely little square of navel jumps off to the right. Them bones wanna dance.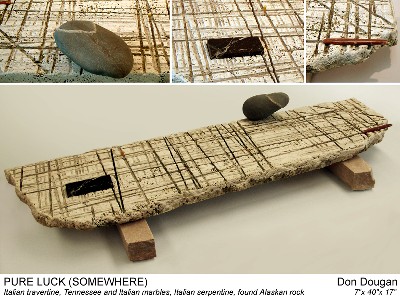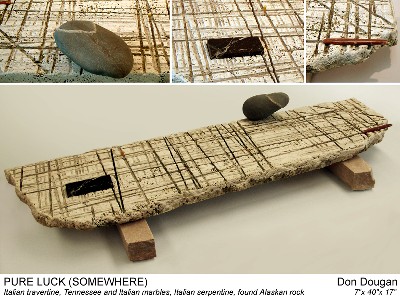 CLASS:

Sculpture
CATEGORY:

Abstract
MEDIA:

stone
SIZE:

40 inches wide
YEAR:

2008
PRICE:

$1,400.

Description

'Pure Luck (Somewhere)' began as the only scrap of an eight-foot piece of travertine slab which served as a cutting table for Michele's bridge saw for years. On earlier visits to Michele's stone-cutting yard (down the hill from Cortona) I had seen and admired the patterns on the surface created by thousands of cuts to marble blocks by the five-foot diameter circular-saw blade. Then one year I arrived to find the old travertine tabletop was gone, replaced with a new one with only a few hundred cuts in the surface. As I scrounged through the stoneyard for promising-looking blocks of material. I came upon this one travertine scrap and recognized it immediately. Michele just smiled and shook his head when I told him I wanted to buy it, and then he gave it to me. The river-rock came back with me from a fishing trip to Alaska with my father. It was picked-up from a stream where we were casting (unsuccessfully) for trout, and enjoying our time together. As I worked on the piece I realized the lines from the cuts were like the threads that the Moirae wove into Fate - some cut deeper and longer than others. We are never destined to see the whole tapestry, just our own little bit. And though our line might intersect with many others it is both distinct and separate, with luck (a white circle) near - but not of - the fabric of life.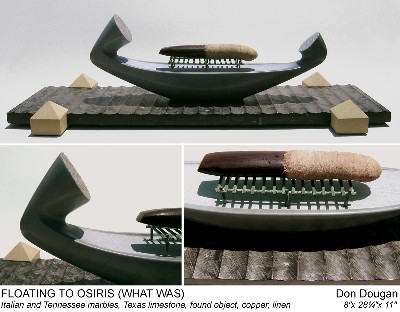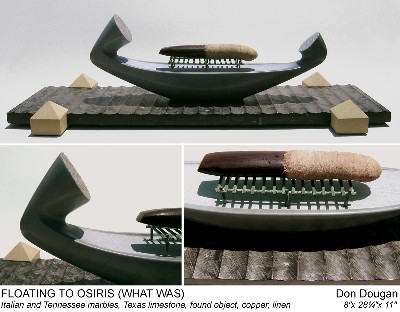 CLASS:

Sculpture
CATEGORY:

Abstract
MEDIA:

stone & mixed-media
SIZE:

28-1/4 inches wide
YEAR:

2003
PRICE:

$6,000.

Description

This particular piece is from a current series I call "Stoneboats" and they all reflect and explore the theme of memory. Memories, both personal and cultural, that are carried with each of us as we journey through life and that help to define the forms into which our civilization is constantly evolving.
The gray boat itself is shaped to look similar to ancient Egyptian boats that Pharaoh used to float down the Nile, the black marble symbolizes the Nile, and the antique shoemaker's leather-rubbing tool made from rosewood that is partly wrapped in torn linen cloth and coated with lacquer, and the copper structure with a patina (the mummy form is sitting on top of).
Osiris is one of the main gods of ancient Egypt. He and his brother, Seth, had a disagreement, and Seth killed him and cut him up into little pieces and threw all the pieces away in different places. Osiris's son and daughter collected most of the pieces and put them back together so Osiris could be reborn. There were still some pieces of his body that were missing, and that is what this sculpture is about - because we all lose parts of ourself as we live our lives.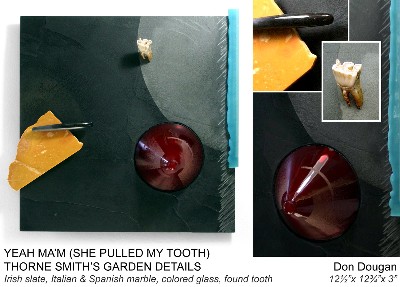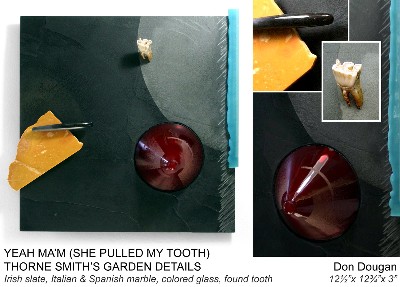 CLASS:

Sculpture
CATEGORY:

Abstract
MEDIA:

stone &mixed-media
SIZE:

12-1/2 inches high
YEAR:

2007
PRICE:

$2,000

Description

One cannot help but be influenced by the arts and artists experienced in the journey through life. Paying tribute or homage to those who work in other artforms — writers and composers, musicians and actors, and other visual artists — is a time-honored tradition.

One also cannot help but imagine what the fertile back gardens of these cultivators might be like, or contain . . .

METAPHORICAL GARDENS
This series is an homage to the artists in all fields of endeavor whose work has touched me in my journey through life. The works are not intended to provide or use direct artistic 'quotes' from those other artists, nor even to portray who the artist is as subject. The works use my personal iconographic understandings to show what bits of those artist's imaginary gardens might contain in a metaphorical sense. The compositional relationships of material, form, and effect in the pieces combine to evoke my very personal take on their work, their character, and their life. Most of these works are done on a very modest scale, and in the form of wall sculptures. This scale, this format allows a certain intimacy with the subjects, and removes the works from the realm of monuments — which they most certainly are not intended to be. The work on each piece in the series is not begun with a particular individual in mind, rather, as the piece develops the character or personality of the work comes to suggest the artist to whose garden the piece will become.
About the materials:
Many — though not all — of the pieces in this series are done using black slate as the primary background material. Even though slate has a distinctive texture when cleft, it is generally homogenous enough that it provides a relatively understated presence in which the other materials and forms can take center-stage.
The materials employed in this series are perhaps more mixed than in many of my other works, and this variety allows a certain complexity in relational qualities that is better suited to the metaphorical themes of the pieces. Rather than distilling the essence of the subjects through form as a singular media might require, in these pieces the mixed-media helps to suggest a complex vignette through which the essence can perhaps better be inferred by the viewer.
And perhaps as a last word, this entire series could be considered an homage to the iconoclastic artist Joseph Cornell (1903–1972), whose sublime perceptions on the nature of the found combined with his sense of balanced juxtaposition to create a uniquely haunting body of work that I never tire of experiencing.

Thorne Smith (1892–1934) American author of surreal madcap comic fiction, perhaps best known for his novel "Topper" which was later adapted into both a movie and a TV series. Both of which are good — mostly because of Leo G. Carroll's acting skills — but to catch the full effect you really have to read the books . . .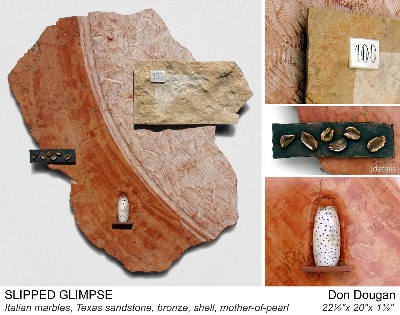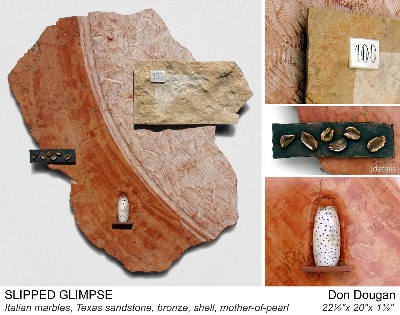 CLASS:

Sculpture
CATEGORY:

Abstract
MEDIA:

stone &mixed-media
SIZE:

22-1/2 inches high
YEAR:

2006
PRICE:

$1,860

Description

Wilhelm de Kooning told an art historian in 1960, "When I'm falling I am doing all right. And when I am slipping I say, 'Hey, this is very interesting.' . . . That is a wonderful sensation . . . to slip into this glimpse." "You could call me a slipping glimpser."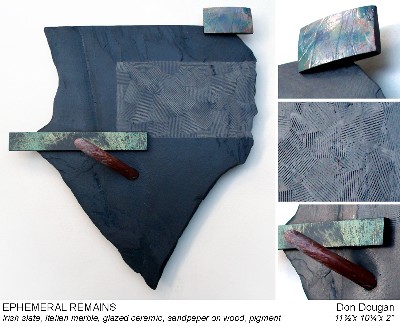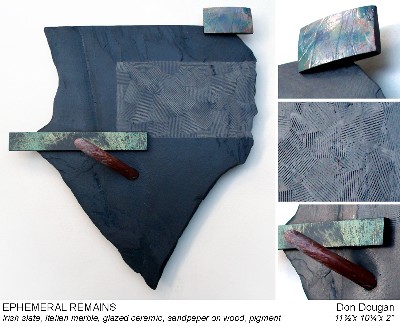 CLASS:

Sculpture
CATEGORY:

Abstract
MEDIA:

stone & mixed-media
SIZE:

11-1/2 inches high
YEAR:

2008
PRICE:

$750.

Description

Everything is relative in this world, which is succinctly described by the lyric 'one man's ceiling is another man's floor' from Paul Simon's song of the same name.

Here the detritus from the studio becomes something else — perhaps more reminiscent of Artie Shaw's arrangement and clarinet of 'Deep Purple' with vocal musings by Helen Forrest.