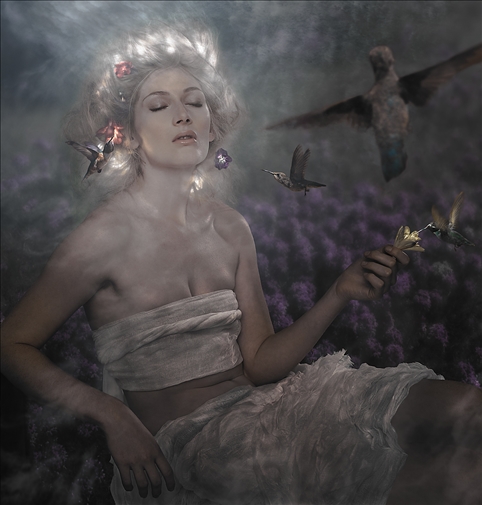 Celebrate the returning warmth and feeling of hope and growth with three wonderful exhibitions at Agora Gallery. Altered States of Reality: an Exhibition of Analog and Digital Photography is a consistently popular and powerful exhibit, as these sensitive and ingenious fine art photographers reintroduce us to a world we thought we knew. Symphony of Color revels in the richness and sensual pleasure of color, connecting to a part of our world that effortlessly draws us in and leaves us immersed in mystery and wonder. Made in New Zealand: an Exhibition of Fine Art from New Zealand, will display the works of artists from Auckland's well-known Flagstaff Gallery, which was responsible for revitalizing contemporary art in its area. These delightful creations represent the scintillating best of New Zealand art and will provide new insight into a country that continues to fascinate. The exhibitions open on April 24, 2012 and run until May 15, 2012. The opening reception will take place on April 26, 2012. Entrance is free and art enthusiasts are warmly welcomed to attend and meet some of the inspiring artists behind the works.

Exhibition Dates: April 24, 2012 – May 15, 2012 Reception: Thursday, April 26, 2012, 6:00 - 8:00 p.m. Gallery Location: 530 West 25th St, New York City Gallery Hours: Tues – Sat, 11a.m. - 6 p.m. Event URL: http://www.agora-gallery.com/receptionexhibitions/4_26_2012.aspx

Featured Artists:

Symphony of Color Hortencia Barreto | Vera L.P. Cauwenberghs | Doug Gilbert | Elisabeth Holzschuster | Nicholai Khan | Helen Laishley | Lola Lonli | Marty Maehr | MAEV | Yvonne Maloney | Isabelle Viallaneix | W.M. Vinci | Xiaoli Yang

Altered States of Reality Michelle Benjamin | Fernando Braune | Claude Charlebois | Vidur Chhabra | Neil Patrick Doherty | Michael Katz | Corrado Maggi | Shokoufeh Malekkiani | Hélène Mogensen de Monléon | Norma Picciotto | Heather Diane Rule (Adams) | Shifra | Monia Tartarini

Made in New Zealand: An Exhibition of Fine Art from New Zealand Tony Allain | Mychael Barratt | Emma Butler | Sean Chen | Mark Compton | Dagmar Dyck | Dave Gunson | Julia Henderson | Daniëlla Hulme | Crispin Korschen | Peter Lambert | Kit MacGregor | Ewan McDougall | Peter Mesley | Alexis Neal | Tony Ogle | Anna Palmer | Matt Palmer | Richard Robinson | Ted Sherwen | Richard Smith | Mary Taylor | Cynthia Taylor | Rae West | Fraser Williamson

Interviews with the artists and high resolution images are available upon request.

About Agora Gallery Agora Gallery is a fine art gallery, established in 1984 and located in the heart of New York City's Chelsea art galleries district. It is famous for showcasing a spectacular array of talented artists from around the world and around the corner, while providing quality and original art to collectors. Exhibitions are usually group exhibits, presenting the work of a number of artists, but sometimes solo exhibitions focus on the work of one particular artist. The gallery publishes ARTisSpectrum Magazine, a bi-annual magazine that is distributed to museums, galleries, art institutions and art schools around the world. It provides artists, collectors, museums, galleries, art organizations and enthusiasts with access to the work of international talented artists as well as feature articles, reviews and interviews. Agora Gallery is the proud sponsor of ARTmine, one of the most comprehensive resources available worldwide to view and purchase fine art. The gallery also runs Agora Art Blog, a blog designed to provide helpful information and advice for artists while providing a forum for artists to help one another by sharing their experiences and thoughts.