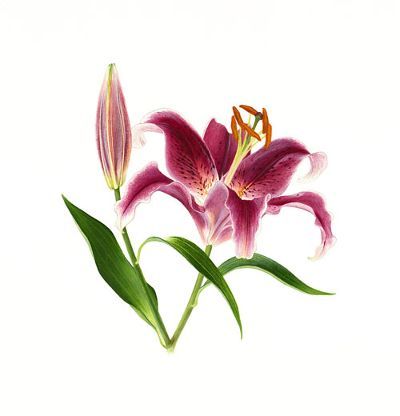 Gloria Seborg (MFA Washington State University) loves springtime in Seattle. It's a time when nature is waking up from its long winter slumber. It's also the busiest time of the year for Gloria, a kind of full blooming painting madness.

Every single flower is absolutely amazing. That's the problem. As an avid gardener, landscaper and painter Gloria works with real flowers, trying to keep several at a time in just that perfect state, putting them in vases in the refrigerator to slow the blooming process. I have to work from real life, and the time that a partially opened bud can stay that way is very short.

In the 80s Seborg worked in large abstract patterned motifs, building deep hues of prism-like colors in acrylics by layering transparencies on top of each other.

Things changed in the 90s when she moved from the dry California valley climate back to the verdant northwest. Astounded by the plethora of lush wetter climate varietals, Seborg soon found herself studying the horticulture of the region. Concurrently her focus shifted from building large abstract motifs to painting delicate exacting still lives of flowers.

When I got up here to Seattle, I had never seen a dogwood in flower, I actually thought it was phony. She says with a hearty laugh. There was a clematis called Nelly Moser across the street and I would look over there and think…that elder woman who lives there is quite the gardener so why would she put plastic flowers in her yard. It had a pink stripe down the middle of white petals. Of course it turned out to be real. It was a heart stopper, I had to paint it.

Like a lot of artists Gloria would like to push her work in another direction. I would love to go back to large abstract painting again, but every year in the spring the flowers are about to bloom and I am forced to pick and to paint.

Gloria sells work out of her home and in a variety of small non-traditional retail outlets.