WELCOME TO THE ONLINE ART GALLERY FOR VISUAL ARTISTS
The Commerce of Art
Featured Artist
---
Cynthia Martin Kroener
Davis, CA

Whether painting the Sierras, the Central Valley, Mexican villages, or the Greek Islands, painting is my passion. I have participated in the art world since my teenage years. While living abroad in Spain during the early 70's, I produced my own ceramic art jewelry, in addition to managing a small art gallery on the island of Ibiza in the Mediterranean. When I returned to the states,
Member News
---
Call for Art – "Open" (No Theme) Online Juried Art Competition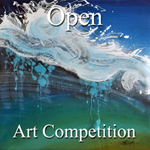 Light Space & Time Online Art Gallery announces a call for art for the gallery's 4th Annual "Open" (No Theme) Juried Art Competition for the month of November 2014. The gallery invites all 2D and 3D artists (including photography) from around the world to make online submissions for possible inclusion in to the Gallery's December 2014 online group art exhibition. Light Space & Time encourages
Our online art gallery is dedicated to showcasing contemporary artists and their original art, while making it easier for the public to find them. Browse the online gallery for original art, then contact the artists or their galleries. Find art festivals, gallery shows, open studios and workshops.
ArtPickle highlights the artists and their art, providing a easy way to search for art, artists, and galleries. We help artists promote their contemporary art. Why be in a pickle over discovering local art?
View our Online Gallery to browse photos by type of art.
Visit our Art News to read artists' articles and comments.
Search for Artists and Galleries
Find the art you like and contact the artist directly. Find oil paintings, ceramics, photography, jewelry, and fine art by region, medium or subject. View portrait paintings, figurative work, artist portraits, landscape paintings, abstract art, in acrylic, oil, pastels, watercolor etc.
Find an individual artist website or gallery website in an area.
Find events - art festivals, art openings, art shows and gallery shows.
Art Festivals and Art Shows
Discover new art and artists at local art festivals, gallery shows, art workshops, and open studios. Search our calendar to find events in your area or vacation destinations.
Art Festivals
---
December 05, 2014 - December 07, 2014
Fall Tempe Festival of the Arts
Tempe, AZ


January 10, 2015 - January 11, 2015
Bonita Springs National Art Festivals
Bonita Springs, FL


January 31, 2015 - February 01, 2015
Bonita Springs National Art Festivals
Bonita Springs, FL


February 07, 2015 - February 08, 2015
Mount Dora Arts Festival
Mount Dora, FL


February 14, 2015 - February 16, 2015
52nd Annual Coconut Grove Arts Festival
Coconut Grove, FL


March 05, 2015 - March 08, 2015
La Quinta Arts Festival
La Quinta, CA


March 14, 2015 - March 15, 2015
Bonita Springs National Art Festivals
Bonita Springs, FL


More Art Events
Are you an Artist?

Need a website? People search our online gallery for art and art events in your area every day.

Our FREE artist website enables you to display photos of your art, link to all the galleries that represent your work, and advertise your open studio events.

For less than $10/month get a Professional or Deluxe website with your own domain name, photo pages, blog, news, links, events and more.
Are you a Gallery?

ArtPickle does not sell art.

We profile Art Galleries with links to your own website. We promote artists to the public.

We publish an events calendar for all the gallery shows, art openings and any other events you promote.

Your Gallery Profile lists all the artists you represent, including photos of their art work, and all the events you sponsor.



Art Therapy for Life-Limiting Illness
by Jenni Underwood
The process of creating art is often an emotional one, and viewing art often evokes strong emotional responses too; this is one reason why art therapy is such an effective tool in the psychotherapist's repertoire. Receiving the diagnosis of a potentially life-limiting illness such as cancer, HIV, or multiple sclerosis is a traumatic experience, and the ongoing physical and mental health issues associated with such a diagnosis are equally traumatic. For people within life-limiting illnesses, some form of therapy is often recommended to help them come to terms with the diagnosis; in both the short-term and the long-term, art therapy can be an important part of this process.
Why Art Therapy?
Art .....
read more
Show Organizers
If you promote art shows and art festivals, submit your events to our calendar for all to see. If your events include a "Call for Artists", we will notify all our interested members. How to Submit Events


| | |
| --- | --- |
| | Feed available for featured artist. |
| | |
Scroll To Load More Images