WELCOME TO THE ONLINE ART GALLERY FOR VISUAL ARTISTS
The Commerce of Art
Featured Artist
---
Joanna A. Rytel
Algonquin, IL

Few words about me

My journey through the world of art began in Warsaw, Poland in 1965. As a 7 year old I attended an art class with my best friend Marysia. The subject matter might not have been the most ambitious, but the passion for expressing myself through various forms of art remains.

Since that first art class I have dipped my fingers in many art
Member News
---
4th Annual Animals Art Exhibition Now Online Ready to View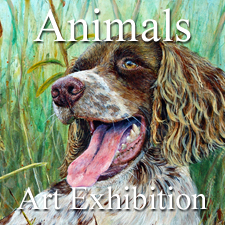 Light Space & Time Online Art Gallery is pleased to announce that its August 2014 art exhibition is now posted on their website and ready to be viewed online. The "Animals" theme was considered to be any art, which depicted mammals, birds or animals that live in the water. The gallery accepted art on this subject that was either representational or abstract.

An art competition was held in July
Our online art gallery is dedicated to showcasing contemporary artists and their original art, while making it easier for the public to find them. Browse the online gallery for original art, then contact the artists or their galleries. Find art festivals, gallery shows, open studios and workshops.
ArtPickle highlights the artists and their art, providing a easy way to search for art, artists, and galleries. We help artists promote their contemporary art. Why be in a pickle over discovering local art?
View our Online Gallery to browse photos by type of art.
Visit our Art News to read artists' articles and comments.
Search for Artists and Galleries
Find the art you like and contact the artist directly. Find oil paintings, ceramics, photography, jewelry, and fine art by region, medium or subject. View portrait paintings, figurative work, artist portraits, landscape paintings, abstract art, in acrylic, oil, pastels, watercolor etc.
Find an individual artist website or gallery website in an area.
Find events - art festivals, art openings, art shows and gallery shows.
Art Festivals and Art Shows
Discover new art and artists at local art festivals, gallery shows, art workshops, and open studios. Search our calendar to find events in your area or vacation destinations.
Art Festivals
---
August 30, 2014 - August 31, 2014
Fine Arts and Crafts Festival
Portland, OR


August 30, 2014 - September 01, 2014
Art in the Park
Marietta, GA


August 30, 2014 - August 31, 2014
Sioux City Art Center's ArtSplash!
Sioux City, IA


August 30, 2014 - August 31, 2014
Mile High Art and Jazz
Denver, CO


August 30, 2014 - September 01, 2014
Twenty-second Annual Labor Day Show
Flagstaff, AZ


August 30, 2014 - September 01, 2014
Arts Festival Oklahoma
Oklahoma City, OK


August 30, 2014 - August 31, 2014
THIRD WARD ART FESTIVAL
MILWAUKEE, WI


August 30, 2014 - August 31, 2014
Labor Day Award Show Weekend in the Mountains
Banner Elk, NC


August 31, 2014 - September 01, 2014
Art Fair on the Square
Lake Forest, IL


September 05, 2014 - September 07, 2014
Art & Apples Festival
Rochester, MI


More Art Events
Are you an Artist?

Need a website? People search our online gallery for art and art events in your area every day.

Our FREE artist website enables you to display photos of your art, link to all the galleries that represent your work, and advertise your open studio events.

For less than $10/month get a Professional or Deluxe website with your own domain name, photo pages, blog, news, links, events and more.
Are you a Gallery?

ArtPickle does not sell art.

We profile Art Galleries with links to your own website. We promote artists to the public.

We publish an events calendar for all the gallery shows, art openings and any other events you promote.

Your Gallery Profile lists all the artists you represent, including photos of their art work, and all the events you sponsor.



Art Therapy for Life-Limiting Illness
by Jenni Underwood
The process of creating art is often an emotional one, and viewing art often evokes strong emotional responses too; this is one reason why art therapy is such an effective tool in the psychotherapist's repertoire. Receiving the diagnosis of a potentially life-limiting illness such as cancer, HIV, or multiple sclerosis is a traumatic experience, and the ongoing physical and mental health issues associated with such a diagnosis are equally traumatic. For people within life-limiting illnesses, some form of therapy is often recommended to help them come to terms with the diagnosis; in both the short-term and the long-term, art therapy can be an important part of this process.
Why Art Therapy?
Art .....
read more
Show Organizers
If you promote art shows and art festivals, submit your events to our calendar for all to see. If your events include a "Call for Artists", we will notify all our interested members. How to Submit Events


| | |
| --- | --- |
| | Feed available for featured artist. |
| | |
Scroll To Load More Images